One of my favorite events in Chicago happens tomorrow and Sunday, October 19 & 20, 2013: Chicago Architecture Foundation's Open House Chicago!!!
Why is it on my favorite list…and should be on yours?
Approximately 150 buildings around the Chicagoland area open their doors to the public giving tours, sharing their history and, in some buildings, taking you into usually "secret" places. From ornate architectural detail to private towers to inside bell towers to vaults to seeing how things work to skyline views not publicly accessible on any given day, this is the weekend for the photographer, novice or pro!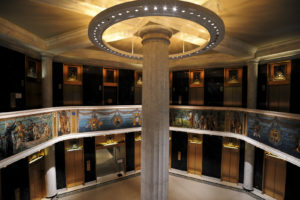 This is the third year of the Open House Chicago event and my third year volunteering. Year 1, my assignment was a French Marble Atelier Studio in Little Village; Year 2, my assignment was at St. Adalbert's Church in Pilsen; and this year, I'll be at Hector Duarte's Studio and the Gulliver in Wonderland Mural in Pilsen. I will write a follow-up post with photos from this year's event. Say 'Hello!' if you're at the Studio on Sunday afternoon.
See our incredible city like no other time of year!