On the first full week of 2020, I had a lot of ideas and a long to-do list to get things rolling for the year. Then, I received an email and phone call.
The email was from the producer of the Nick Digilio Show who said a listener made them aware of Tour Through A Lens (TTAL) after their tour experience. He asked if I'd be interested in coming on the show for an interview. "Yeah, right" I'm thinking. A radio show would contact ME.
It turns out, it really was the producer and I really was invited to come on the show! If you don't know, WGN (both TV and Radio) are broadcast nationally and online…if you're a lover of all things Chicago! Nick's show is a late-night show airing in the wee hours of the morning and he's all Chicago. Movie critic, sports, music, anything.
New Year, New Week, New Opportunity
On Monday, my week was like any other winter week. On Wednesday, I'm preparing to be on radio to talk about TTAL and my tours. Interview at midnight.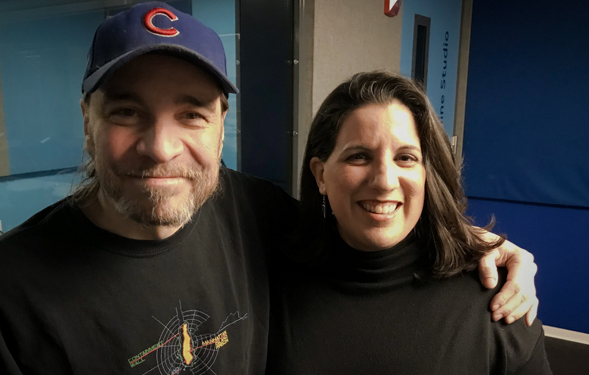 Crap! I haven't been on radio yet. What am I going to say? What is he going to ask? What if I sound silly or say a LOT of "ums" like I do when speaking? This is why I know awesome people. Of course, I reached out to a dear friend who's a trained Toastmaster, speaker, has experience on radio and also business owner (she can relate).
WGN Radio's New Home!
Ok, so I have my preparations done. Now, it's time to go find their new digs (the station used to be housed in the historic Tribune Tower) – new as of 2018. The office building is dark – it's midnight after all – with one lone security guard sitting at the desk. Spooky!
WGN Radio's new space is high tech and lovely. I even had the pleasure of Nick Digilio in the bathroom with me…there are speakers EVERYWHERE (what were you thinking?!). They have a nice green room and even better views. I believe I have an open invitation to return to take photos of the views (Ok, not really…)
It's time…see you in there!
What did you think? One client said I should send it to Oprah. LOL Listening and being in studio are two very different experiences. Nick is great with guests, especially nervous newbies like me. He made the interview flow. He was fun and engaging, very calming. It was like two locals chatting (well, ok, it WAS two locals chatting…to the nation). Thank you, Nick (and Tom!) for this opportunity. I hope to get you out exploring this year.
Book A Photography Tour
If you're not yet a client, let's tour! I just won't have the sexy radio microphone that deepens my voice and makes me sound sooo lovely (can I get one for tours, please!). If you have questions about my photography tours, reach out to me and let's discuss what you'd like to do. If you know what you want and when, hit that Start Now button on the Home page or book on any tour page.
The 2020 Season
I was hoping to announce a couple of new tours for 2020 on the show but I'm still awaiting location approvals. When ready to launch, I'll post the exciting news here and share on social media so keep in touch!
📷📷📸📷📷📸📷📷📸📷📷
Did you know I'm an affiliate marketer for two great photography products?
CreativeLive to kickstart your learning, teach you something new or download John Greengo's Fast Start of the new camera you got. Clicking on this link will allow them to share some of your purchase pennies with me for telling you about them
SmugMug to give you a place to share your portfolio and/or sell your photos. They also offer unlimited photo storage without compression – full resolution! Clicking on this link will allow them to share some of your purchase pennies with me for telling you about them