If I were to ask what genre(s) of photos you think you take, what would you say? Let me help you out with a list:
Portraits
Weddings
Events
Sports
Street / Urban
Fine Art
Macro
Landscapes
Family
Travel
Abstract
Stills
Motion
Architecture
..the list could go on.
Now, I'll ask, what genre(s) of photos do you actually take?
Are your answers to these two questions the same? For most of you, I'm going to guess 'no'. If you've ever noticed this, did you ask yourself why the discrepancy? If you've never noticed this, take a moment now and do your own assessment.
Giving individual, customized photography tours teaches me about people and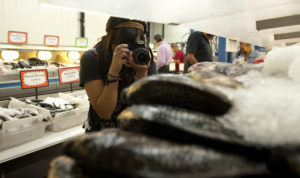 their photography, including my own. Before each tour, I ask clients the first question I asked you: "What type of photos do you take?" Sometimes, the response is general, "A little of everything"; other times, people are more specific. While on the tour, a client may not be as interested in architecture as they had mentioned and were really zoning in on a display of flowers along Michigan Avenue. Turns out, most of my clients don't spend their tour time capturing the types of photos they said they do!
This got me thinking, "Why do we do this?" Are we unaware, like someone still wearing an 80s hairstyle unaware it no longer suits their face? Are we trying to be all things to all people or be more marketable because someone said that's what we should do? Do we not look through our own photos and notice what subjects we're most drawn to?
I once took a class about defining your photographic style, and we were asked to bring 10 sample photos to share. Turns out, despite what we think we photograph, we are innately drawn to certain subjects and our photos display our own style, almost like a thumbprint for photos, whether we realize it or not. An iconic example: Ansel Adams. Many people know when looking at a photo of his that it's his work.
Is there someone you know who would look at a sample of your photos and help you? They don't have to be perfectly edited. Style and subject are the same regardless of brightness or contrast. Try it!
If you'd like, answer the two questions in the Comments below. If you want public feedback, include a link to a sample photo gallery. (Note: This will not be a photo critique, only feedback on type or style of photography.)
1. What type(s) of photos do you think you take?
2. What type(s) of photos do you take?
If you're looking for an excellent professional resource to learn or upgrade your photography skill before taking your next trip, I am always recommending John Greengo over at CreativeLive. So much so that they're now an affiliate! Check out their classes, FREE when airing live or same-day rebroadcast!